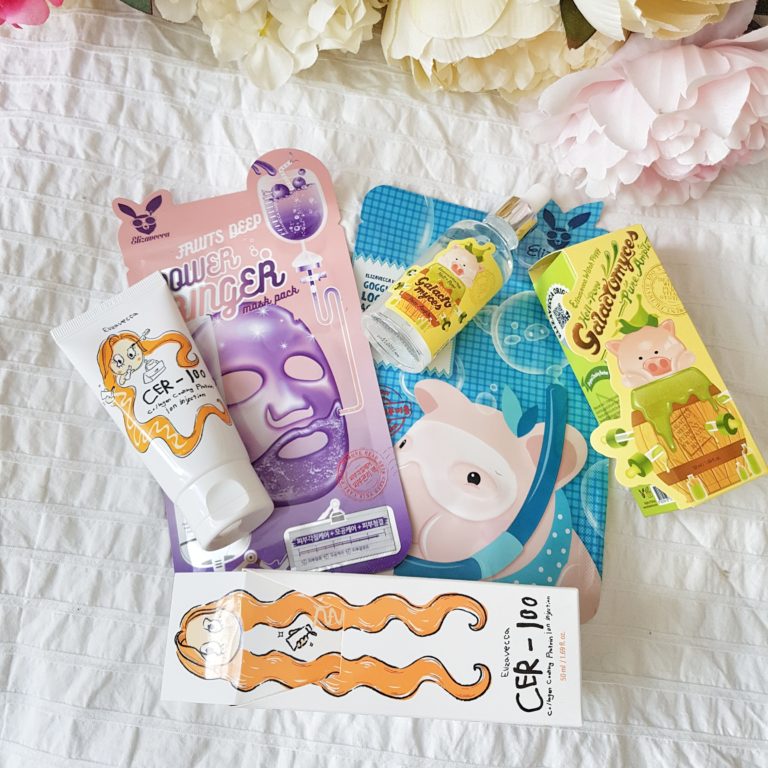 Brand Elizavecca is one of those who was brave enough to try to break into our market. As someone who has been practicing Korean way of skin care for years, layered application of essences, serums, creams, I was glad to get in touch with Elizavecca and try their products and review them to you, especially if you are new to the world of Korean cosmetics. You know what it's like to see a picture of a woman from Asia, and then get amazed how young she looks when she's 55. You guess then – it's a special kind of skincare.
What I can surely say is that the Korean formulas are generally good, even great. The Elizavecca is a mid-priced range, can be purchased online in TK Maxx stores. They are recognizable by their interesting colorful packaging, a bit childish design an, incredibly long names. You will recognize Elizavecca by the piglet that is on almost every product. In the PR parcel I got two popular facial masks, serums and hair cutters arrived.
Sheet Masks
I've been using sheet face masks for a long time now. In Korean care, the mask in the form of a sheath or a gel is placed on the face after the basic cleansing and application of the essence, i.e. an aqueous solution containing vitamins and hydration molecules. Sheet masks are there to relax the face, provide a SPA atmosphere at home and push nutrients deeper into the skin.
Fruits deep power & ringer mask pack
This mask is of a nourishing type. They promise that after the 4 weeks of regular use, it will purify and improve skin tone, increase elasticity and eliminate tired look. Of course, with one mask it is impossible to achieve all this, but after one use, the skin does become fresher. The mask is a thin white canvas, quite soaked in the essence. There is plenty of essence and you can put it in a bottle and use several more times. This mask is very watery and the essence leaks everywhere as soon as it is pulled out of the foil. The composition is common, water, glycerin, propylene glycol, hyaluronic acid, tartaric acid, citric acid, honey extract. Since it contains acids, it is advisable to use it in the evening and not expose face to direct sunlight. It should be kept on the face for 15 minutes and then the rest of the essence should be rubbed into the skin.

Google eye lock in aqua mask
This is an interesting product meant for the care of eye area. It is used to hydrate and remove puffiness around the eyes and has a mildly cool effect. It is made from bio-cellulose with coconut and silk extracts. It comes protected with plastic thin sheets that need to be removed before the mask is placed around the eyes. It is soaked with a solution of goat milk, coconut, niacinamide, glycerin, and collagen, which provide moisture to the skin and mildly fill the fine lines around the eyes. It does not do miracles, but at the moment when you want something fun in your care, it will do just fine.

Elizavecca – Witch Piggy Hell-Pore Galactomyces Pure-Ample 50ml
The ampoule with galactomyces bacteria comes in a bottle on a pipette and serves for hydration and cleansing of the skin, that is, keeps the pores clean. The first impression is that it is completely liquid and watery, but with long-term use, you will notice that your skin is truly clean. Probiotic ferment is responsible for this because it has the ability to penetrate deeper into the skin thanks to auxiliary substances such as pentylene glycol.
Maintains normal skin acidity, fights against impurities, controls sebum secretion and contributes to hydration. Sounds great, is not it? In any case, probiotics in skin care are a real hit nowadays and I can tell you that this ampoule is not bad at all. What I do not like is a bottle and a pipette, because the product is too liquid, it is leaking and it's not easy to tap it on the face with hands. On the first occasion, I will transfer it into a spray bottle and use it as a mist before applying serum and cream, because I think it will be more effective in this form.

CER – 100 Collagen Coating Protein
The last product I want to talk to you about is great and it's designed for hair care. It is a protein preparation for the care and filling of hair, which should be rubbed in hair after washing. A pea size of product is enough for smearing hands and distributing on to the hair. It is particularly advisable to use this rich protein treatment before the dry blowing or use of the hair iron. It is possible to apply it to dry ends and there is no need for rinsing. Treatment is a mixture of silicone, glycerine and various proteins such as hydrolyzed silk, wheat, keratin, soy, etc. As my hair is blond and dry, I I can say that this treatment works very well.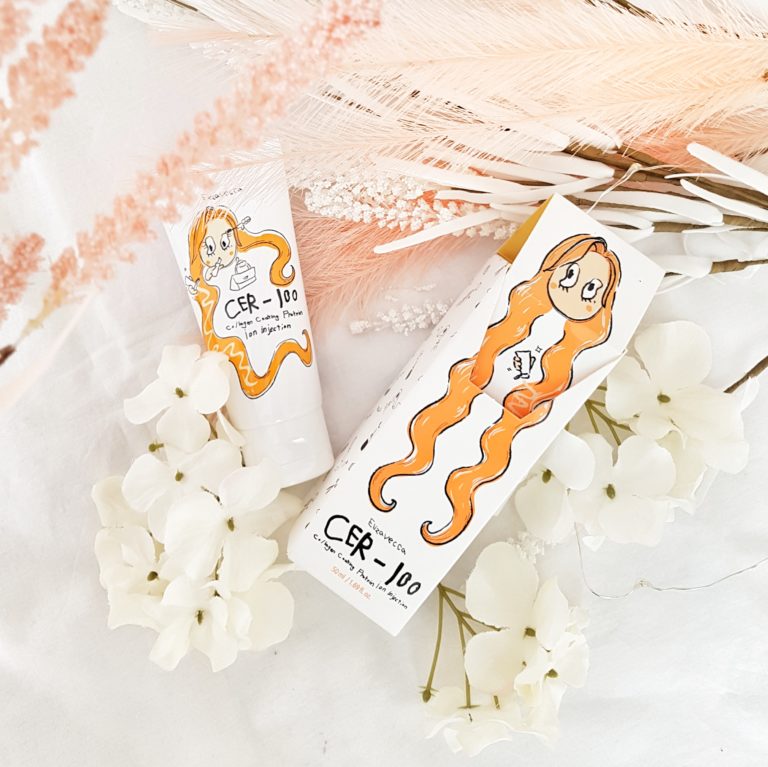 What is your experience with K-beauty?