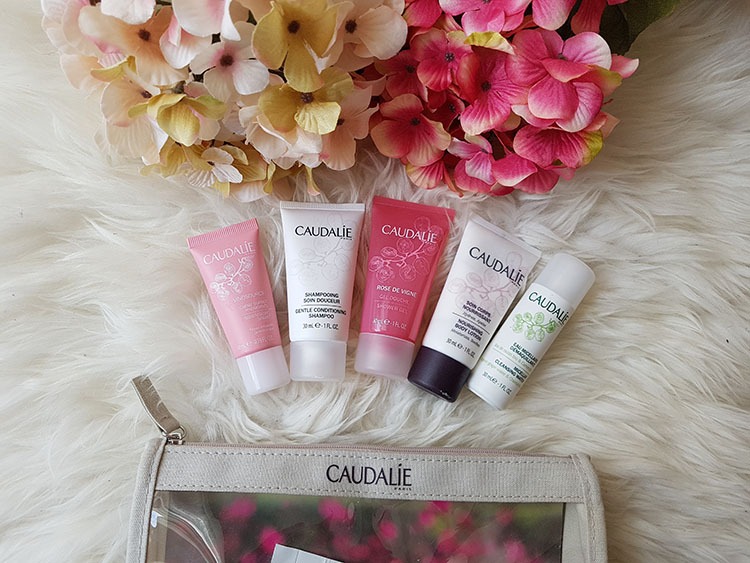 Caudalie
Ako bih morala da izaberem samo jedan kozmetički brend koji  bih koristila do kraja života, to bi sigurno bio Caudalie. U kozmetiku ove francuske kuće sam se zaljubila još kad sam bila u Bordou i od tada u mojoj postavci nege uvek ima bar neka stvarčica sa Caudalie imenom. Proizvodi bazirani na dragocenim polifenolima iz grožđa, prirodni, savršenih formula sa kojima je svaki ritual lepote poput pravog SPA doživljaja. Šta više žena da poželi…
If there's only one cosmetic brand that I would have to choose to use my entire life, it would be Caudalie without a doubt. I fell in love with Caudalie products when I was visiting Bordeaux, France and ever since there's always some product with their name on in my beauty routine. Caudalie products are based on beautiful polyphenols from grapes, they are natural, organic, not tested on animals and with perfect formulas that turn every beauty ritual into a SPA experience.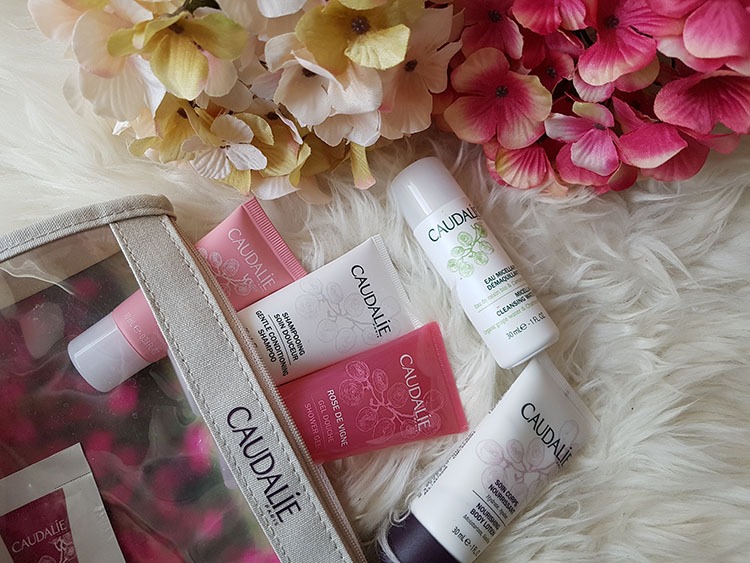 Caudalie travel set
Set koji vidite na slici mi je bio pravo rešenje za put u Poljsku, u nedostatku prostora za pakovanje. U ručni prtljag ne sme ništa veće od 100 ml, pa su mi ove francuske minijature odlično poslužile. Ne samo da vam ih preporučujem kao travel friendly rešenje, već su i fina opcija za isprobavanje Caudalie asortimana, po veoma prihvatljivoj ceni od nešto više od 1000 dinara. U setu se dobija 10 ml prelepe hidratantne kreme iz Vinosource linije, bočica od 30 ml micelarne vode, 30 ml hranljivog mleka za telo, kao i ista količina Rose de Vigne gela za tuširanje i nežnog šampona za kosu.
This set that you see on the image was an excellent solution for my recent trip to Poland when my luggage limits were extremely modest, and since nothing larger than 100 ml could be packed, these minis did a great job. Not only that they are travel-friendly, they are also a nice chance for you to try something from Caudalie's range, without paying more than 10 EUR. Set contains 10 ml of moisturizer, 30 ml of micellar water, and nourishing body lotion, shower gel and shampoo, 30 ml of each.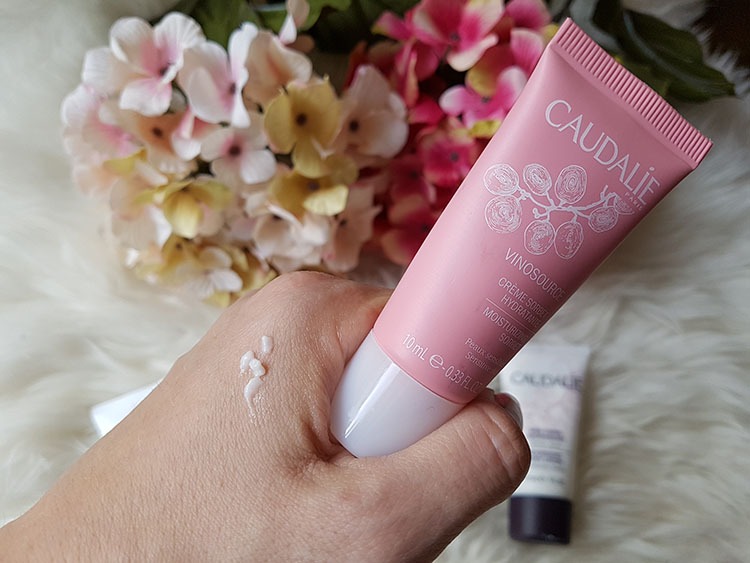 Caudalie Vinosource creme sorbet hydratante
Caudalie Vinosource creme sorbet hydratante je proizvod koji sam već nekoliko puta kupovala. U pitanju je lagana veoma hidratantna kremica vazdušaste formule. Ne sadrži parabene, fenoksietanol, ftalate, mineralno ulje, zloglasni sodium lauret sulfat kao ni sastojke životinjskog porekla. Jako lepo se razmazuje i brzo potone u kožu trenutno je čineći jedrijom i nahranjenijom. Miris je prilično blag i diskretan. Ja volim da je kombinujem sa nekoliko kapi The Ordinary seruma ispod ili sa Caudalie SOS serumom o kom ću uskoro pisati.
Caudalie Vinosource creme sorbet hydratante moisturizer comes in gorgeous pink packaging. It is very moisturizing light airy cream, without any parabens, phenoxyethanol, phthalates, mineral oils, sodium laureth sulphate, and ingredients of animal origin. So nice, organic and eco-friendly! It spreads beautifully over the face and sinks fast into the skin making it fresh and plumpy. The scent is very light and discrete. I love to combine this cream with several drops of serum.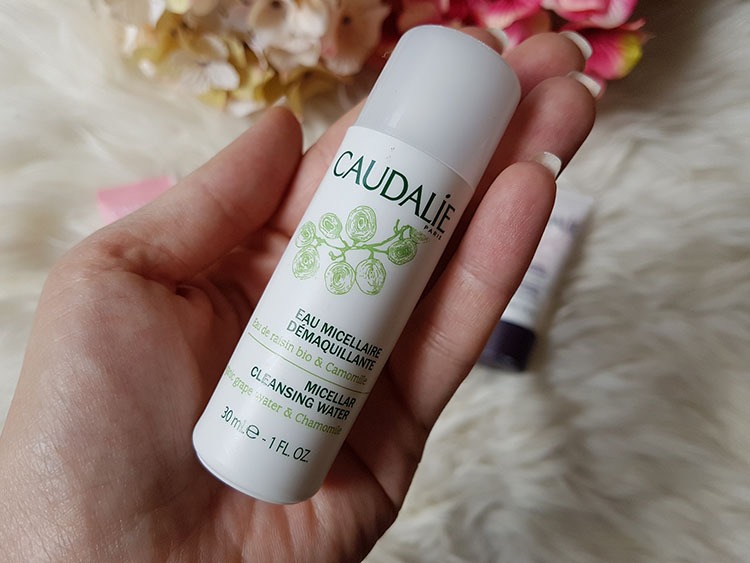 Eau micellaire demaquillante
Eau micellaire demaquillante je micelarna voda sa ekstraktima kamilice i grožđa. Koristi se uobičajeno, naneta na pamučni tupfer, blaga je, ali efikasna. Pogodna je za jutarnje odstranjivanje masnoća ili večernje skidanje šminke. Testirala sam je i za uklanjanje maskare, koju inače sklanjam uljanim sredstvima, i mogu reći da se vrlo uspečno izbori sa maskarom. Potrebno je natopiti tupfer i prisloniti na oko nekoliko trenutaka, i maskara se sasvim lepo otopi sa trepavica. Ovaj proizvod definitivno uzimam u full size pakovanju.
Eau micellaire demaquillante Micellar water contains extracts of raisins and chamomile. You can use it quite commonly, on a cotton pad, it is very gentle, yet efficient. Can be used in mornings or evenings, removes makeup completely and also removes mascara. I would definitely purchase it in full size.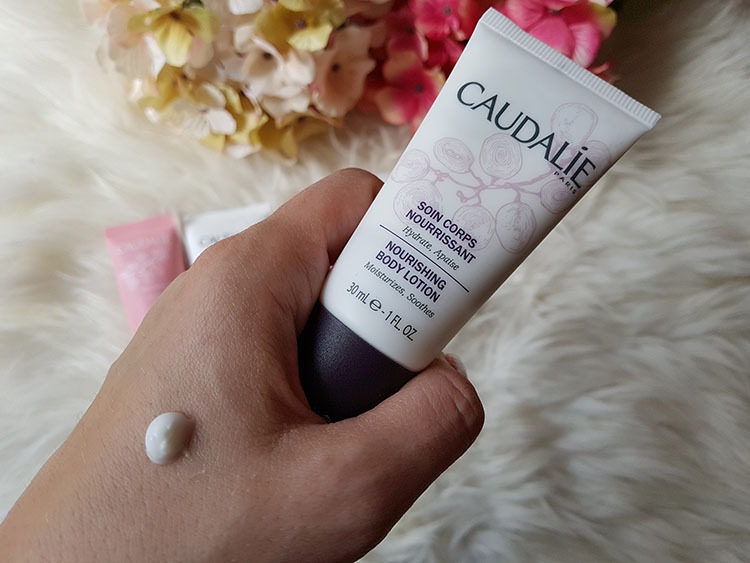 Soin Corps Nourrissant mleko za telo
Soin Corps Nourrissant je jedno predivno mleko za telo na bazi glicerina i ulja koštica grožđa i apsolutno ga obožavam. Obavija telo prelepim čistim mirisom, a hrani odlično. Jako se brzo upija i takođe mu se radujem u punom pakovanju.
The Soin Corps Nourrissant body lotion is also very beautiful, based on glycerine and grape-seed oil and I really adore it. It covers the body with gorgeous clean scent and nourishes skin so well. It sinks fast into the skin and I am looking forward to buying a full size of this product.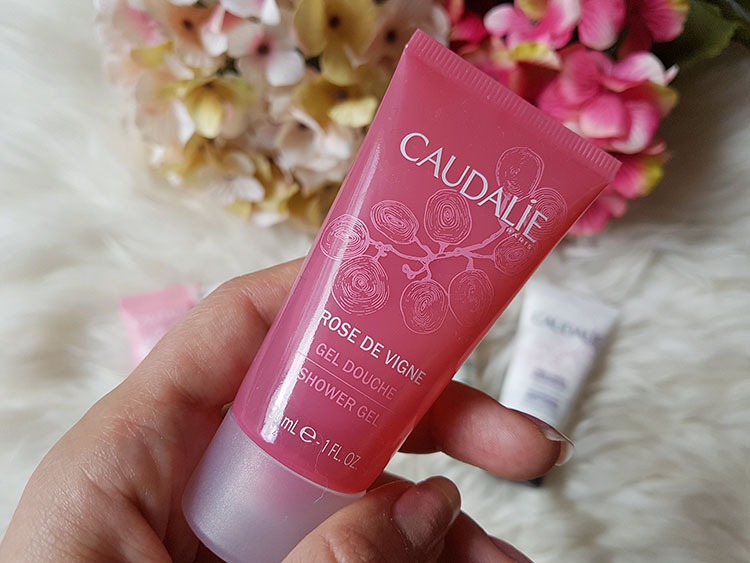 Rose de Vigne gel za tuširanje
Rose de Vigne gel za tuširanje je još jedna praktična i nadasve mirišljava stvarčica. U principu nisam preterani ljubitelj mirisa ruže, ali ova ružica nije dosadna naporna uobičajena. Cvetna nota je primetna, ali obavijena nečim svežim, što mene podseća na nanu i jako mi se dopada. Upravo zahvaljujući mirisu se hotelsko tuširanje pretvara u pravu senzaciju.
Rose de Vigne shower gel is also very handy and smells heavenly. I am not a huge lover of rose scent, but this one is something different. Beside gentle scent of rose there's also something very fresh, like mint, and that combo I like a lot. Thanks to the smell, showering in hotels turns into a real sensation.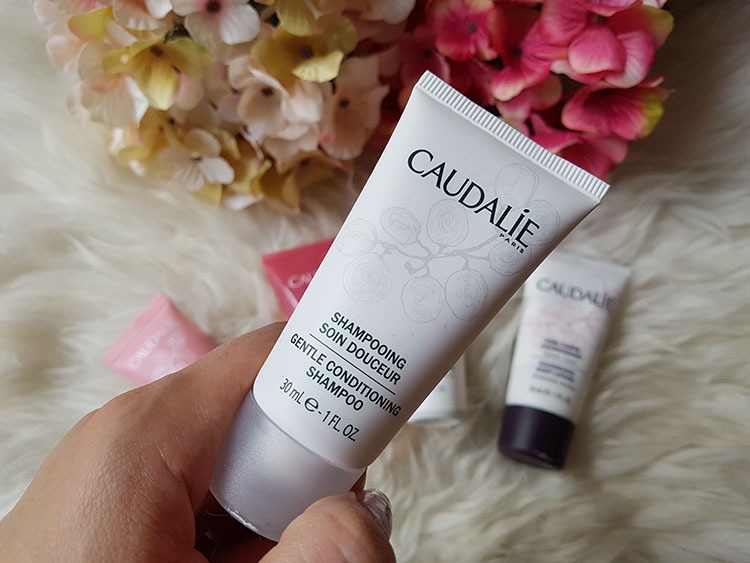 Gentle conditioning shampoo
Gentle conditioning shampoo je šampon za kosu, poslednji u ovom setu. Od svih proizvoda iz seta, on mi se najmanje dopao, ne zato čto nije dobar, već što ja nisam navikla na šampone ovog tipa. Miris mu je biljni, diskretan, a ono što ga karakteriše je to što ne peni. Kako sam ja naviknuta na klasičnu hemiju za pranje kose, ovaj prirodni šampon me nije oduševio i pitala sam se da li mi je kosa uopšte čista nakon njega. Jeste, oprao ju je dobro, ali je bila kurta i škriputava. Naravno, za vikend na putu je odlično rešenje i možda se vama svidi ako ga probate, ali ja ga neću uzimati u punoj količini.
Last but not least is gentle conditioning shampoo. This is the only thing from the set that I am not in love with. Not because it is not good, it is, but I am simply more used to drugstore chemistry in form of shampoos. This one is very gentle and makes almost no foam, which is strange to me, although I understand that it has no SLS. It is a good solution for short trips, and you might fall in love with it, but I won't be buying it in full size.
Za ovaj maleni šarmantni set svakako imate preporuku od mene, povoljan je i kao što rekoh, fina prilika da se isproba više kvalitetnih proizvoda pre nego što se investira u full size.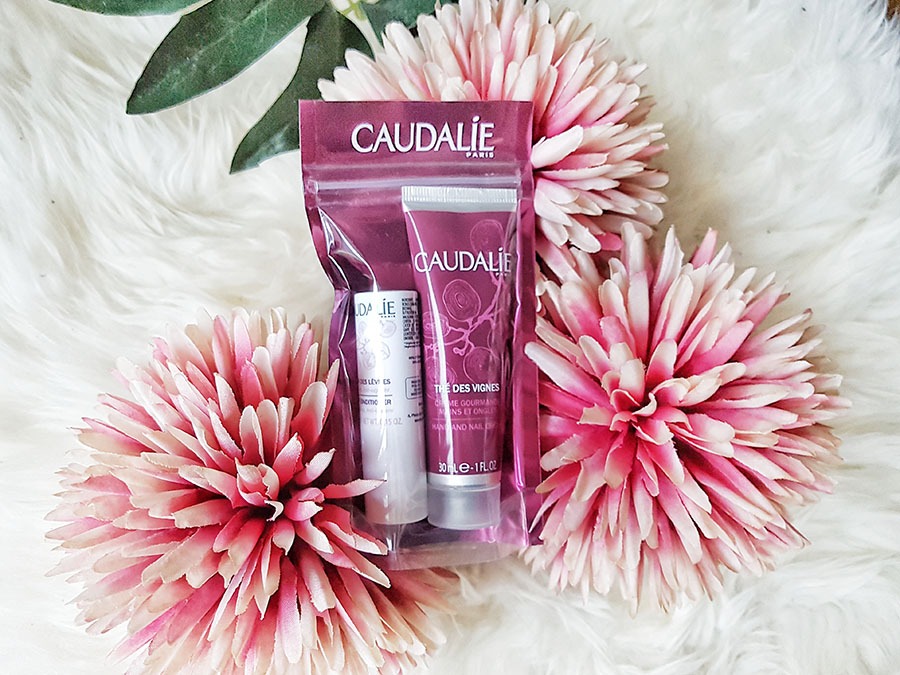 Kako volim da širim ljubav prema francuskoj kozmetici, posebno ovom Caudalie brendu, spremila sam za vas mini Giveaway. U pitanju je poklon paketić koji sadrži kremu za ruke i fantastični balzam za usne, koji će vam dobro doći u predstojećim hladnim danima. As I love to spread love for French cosmetics, especially for Caudalie, I prepared one mini Giveaway for you. It is hand cream and lip balm that will be good for upcoming cold winter days.
Da biste učestvovali u nagrađivanju, potrebno je da/In order to participate you need to:
Zapratite moj blog (makeuplovingme) preko Bloglovin-a/Follow my blog via Bloglovin.
Ostavite komentar ispod ovog posta/ Leave the comment below this post.
Podelite ukoliko želite vest o giveaway-u na društvenim mrežama/Share if you want this giveaway on social networks.
Jednu dobitnicu ću izvući preko sajta Random.org. Giveaway traje do 13.12.2017 i svako ko želi može da učestvuje. Srećno!
A Lucky winner will be chosen with Random.org site and the giveaway is international. You can participate in until the 13.12.2017. Good luck!