Pozdrav svima! Ko me prati na Instagramu, zna da sam poprilično aktivna i zaluđena lepim stvarima i fotografijama. Baš zbog fotografija u poslednje vreme dobijam dosta pohvala, pa iako nemam milion pratilaca na instagramu, njihov broj se lagano uvećava, a meni su pozitivni komentari veliki podstrek da nastavim sa radom. U ovom postu želim da sa vama podelim načine na koje ja obrađujem fotografije za blog i Instagram. Zaista ćete videti da ništa komplikovano nije u pitanju, to je program, tj.aplikacija koju možete besplatno preuzeti, svima je dostupna i svakoga od vas uz malo vežbanja može učiniti pravim stručnjakom za slike.
Hello everyone! Those of you who follow me on Instagram know by now that I am pretty obsessed with photography and pretty things. I get lots of compliments regarding my photos, and even though I don't have a million of followers, every nice word is a huge motivation for me to continue my work. In this post, I want to share with you the way I transform my photos for my blog and Instagram. You will see that it is not complicated by any means, I am using app which is free and available for all of you, and with only a little bit of effort, everybody can be like a real pro in photography.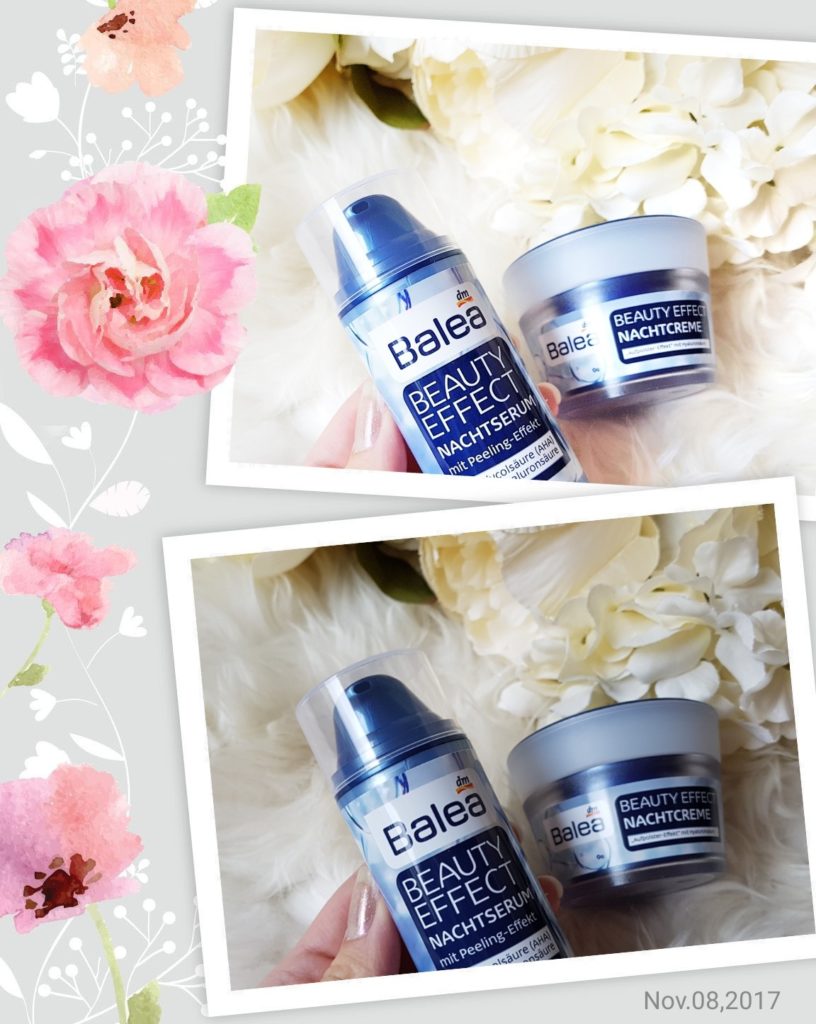 Prvo i osnovno pravilo
– slikajte po dnevnom svetlu. Nadjite malo mesto kraj prozora i tu podesite svoju scenu. Ne morate ništa posebno da uložite u pozadinu, nikakve skupe opreme i artikle da imate. Ukoliko volite belu pozadinu, i obična bela hartija ili platno će dobro doći. Ubaciti neki cvet ili sveću daje draž fotografijama, a nije skup detalj. Izbegavajte po svaku cenu sijalično osvetljenje, jer su najčešće sijalice po domaćinstvima one koje daju toplo svetlo od 2700 K i koje čini da vam slike ispadaju žute. Izbegavajte i blic jer em pravi odsjaj na predmetu koji slikate, em sve oko predmeta deluje mutno i tamno. Potrudite se da vam predmet koji slikate bude jasan i u fokusu.
The first and basic rule is – shoot at daylight. Find some space near the window and set your scene. You don't need to invest a large amount of money into the background or equipment. If you like the white background, plain sheet of paper will do the work. Flowers and candles make photos more appealing and they are not expensive. Avoid shooting under the room light because it is mostly warm and will make your photos yellow. Also, try to avoid flashlight because it gives reflexion on the object that you are photographing and makes surrounding dark and blurry. Try to keep your object in focus.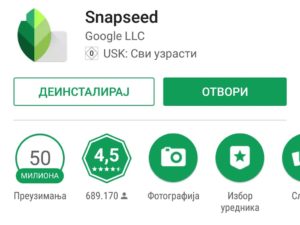 Snapseed (klik klik)
. Ako mene pitate, ništa sem ove aplikacije vam ne treba. Ovo je najgenijalnije sredstvo za obradu fotografija i sa njim je lako održati meru. Opcije koje ja prvo koristim su  smeštene u tools/alatke i to su podešavanje nivoa osvetljenosti, kontrast,  opsecanje, detalji i select dugme.
Snapseed. If you ask me, this app is all you need. Snapseed is the most brilliant tool for transforming your snaps. Options that I use are inside of tools, namely settings, details, crop and select button.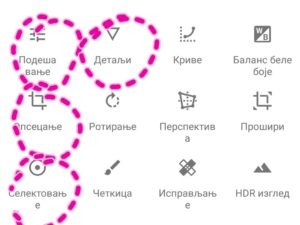 Brightness level
vam posvetljuje sliku, čime ista automatski postaje lepša. Verovato ste dosad primetili da kako god slikate, slike imaju tu sivkastu notu i uvek su tamnije u odnosu na dnevno svetlo. Ovde ipak budite oprezni, jer suviše svetla slika može veoma nerealno da deluje i da vam se izgube uopšte boje vašeg predmeta.
Brightness level makes your photo brighter, making it automatically prettier. You have probably noticed by now that when you shoot, photos always have that greyish undertone and are always darker than you want them to be. With brightness tool is easy to correct all of that, just try to keep the measure, you don't want to lose the actual colours of your object.
Contast
 vam pomaže da naglasite predmet u odnosu na pozadinu, da boldujete ivice, naglasite razliku izmedju tamnijih i svetlijih delova slike.
Contrast helps you to emphasize the object, to make a noticeable difference between lighter and darker parts of your image.
Temperature
opcija je za podešavanje topline slike. Privlačnije su slike koje su neutralne ili hladnije, tako da se ova opcija koristi za smanjenje žutila na slici.
Temperature tool is for adjusting the warmth of the image. Photos that are neutral or on the colder side are prettier than the ones with yellow undertone, so I use this tool to remove the yellowness.
Details
/detalji podrazumevaju opcije sharpen and structure (izoštravanje i struktura) i tu birate koliko želite da vam detalji na slici budu uočljivi. Ja često koristim belo krzno kao pozadinu i pomoću ovih opcija određujem da li želim da mi se na slici uočavaju dlake od krzna ili želim da sve bude nežno i izblendano, bez jasnih prelaza.
Details button contains the "structure and sharpen" options so that is how you adjust how clear you want your details to be. I often use white fur as a background, and by changing structure and sharpness I choose whether I want my background to be soft or with noticeable hairs.
Crop
opcija je za opsecanje, i tu birate oblik i dimenzije svoje fotografije. Ja za Instagram biram kvadratnu opciju, a za blog 4:3 razmeru.
Crop option helps you change the size of your snaps. I use square photos for Instagram, and 4:3 ratio for blog photos.
Select
dugme je za ciljano menjanje detalja na slici. Pomoću njega možete samo određenom deliću slike promeniti osvetljenost, kontrast, strukturu ili boje. Ja najčešće ciljano posvetljujem neke delove i koristim saturation/zasićenost opciju ako baš naročito želim da istaknem neku boju.
Select button is for targeted adjustments. Using it you can very precise change brightness, contrast, colour saturation or structure in particular parts of your photo.
U videu ispod možete pogledati kako ovo sve gore napisano izgleda u praksi.
In this video below you can see how all of this actually work.
Da li vam se dopada ovaj post i kako vi obrađujete svoje slike?